Lower Your Cincinnati Home's Energy Bills With A Geothermal System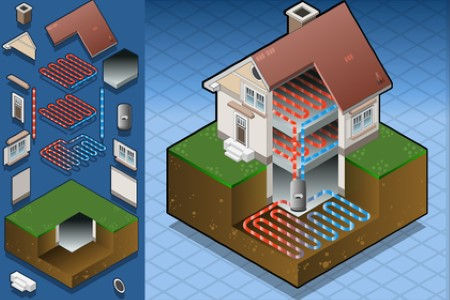 Do you need to find a heating contractor who specializes in geothermal heating and cooling installations? We're your local specialist in geothermal system services in the Cincinnati area, so call us to set up a free replacement estimate today!
Clark Heating & Cooling, Inc is always concerned about your safety and satisfaction. We provide expert installation and can complete the repair work quickly and accurately. Take a look at the Geothermal systems below to see what we offer. If you're interested in scheduling a residential or commercial appointment, give us a call.
Premier Service in Cincinnati Since 1974
Complete Solutions for Your Home or Business
Local & Reliable Installation and Repair Service
Free Replacement Estimates and Financing Available
The Energy-Efficient Geothermal Systems
Geothermal technology uses the earth's energy for heating and air conditioning homes and buildings. The system can also provide hot water. It's sometimes referred to as a geothermal heat pump, a ground source heat pump, or earth energy.
No matter what you call it, Geothermal systems are arguably the best choice you can make for both your pocketbook and the planet. In fact, these systems are so good that the U.S. Environmental Protection Agency (EPA) has said it is "the most energy-efficient, environmentally clean, and cost-effective space conditioning systems available today."
How Geothermal Systems Work
Since the earth's temperature remains fairly constant a few feet below the surface, geothermal HVAC systems use this year-round temperature to provide extremely efficient heating and cooling.
In winter, pipes buried in the ground absorb heat from the earth and carry to the home. The Geothermal heat pump transfers it to the interior space for warmth.
The process is reversed to cool your home. The heat is extracted from the air in the house and transferred back to the piping underground.
The only small amount of electricity needed is to run the heat pump, ground loop pump, and distribution fan or pump.
Benefits of Geothermal Systems
Trusted method of heating and cooling for more than 50 years
Energy Savings - 25% to 70% lower than conventional systems to run
Less maintenance required
Provides higher levels of comfort, year-round
Environmentally responsible heating and cooling
Eliminates a potential source of poisonous carbon monoxide buildup indoors
A sound investment for any homeowner
Increases home value per The National Association of Realtors Appraisal Journal